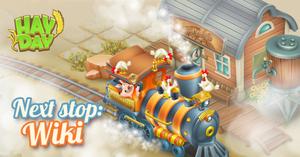 Hello and welcome to our Wiki!
This page lists all the main parts of our Wiki. If you want to know more about the game, we suggest you have a look at the Hay Day page and Game Features category. To know more about the creators of Hay Day, head over to Supercell.
If you're interested in the Wiki itself, our about page and community portal might be a good place to start.
Wanna talk or ask questions? Check out our forums.
Ad blocker interference detected!
Wikia is a free-to-use site that makes money from advertising. We have a modified experience for viewers using ad blockers

Wikia is not accessible if you've made further modifications. Remove the custom ad blocker rule(s) and the page will load as expected.