Crops are plants players can cultivate on farm land. Some crops grow in fields while other grow on trees or bushes.
Crops are stored in the silo.
---
Cultivating crops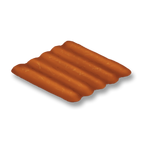 Players cultivate field crops by planting previously harvested crops into fields. One planted crop gives two harvested ones. When players unlock new types of plants they are given one to three plants to start up.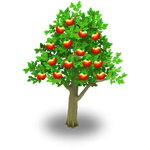 Players cultivate tree and bush crops by placing trees or bushes on their farm. Trees and bushes die after several harvests and have to be regularly replaced with new ones.

Fields, trees and bushes are bought in the shop

. Fields cost 1 coin

each. Trees and bushes cost between 160 to 670 coin

per unit. Planting field crops does not cost any money.
---
Types of crops
For a much more comprehensive table see our Master List. Note that it may not be mobile-friendly, though.
---
Strategy tips
---
Ad blocker interference detected!
Wikia is a free-to-use site that makes money from advertising. We have a modified experience for viewers using ad blockers

Wikia is not accessible if you've made further modifications. Remove the custom ad blocker rule(s) and the page will load as expected.