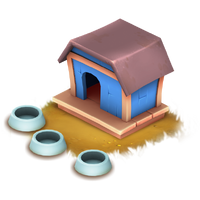 Dog houses are shelters for dogs. The first house is unlocked at experience level 20.
---
Appearance
The house is a wooden blue doghouse. However, dogs never go into the house. They eat and sleep in front of it.
---
Building
Each house costs 1,000 coin

and can hold up to three dogs. The second house is unlocked at level 28. Building them takes no time.
---
See also
Ad blocker interference detected!
Wikia is a free-to-use site that makes money from advertising. We have a modified experience for viewers using ad blockers

Wikia is not accessible if you've made further modifications. Remove the custom ad blocker rule(s) and the page will load as expected.