The Duck Salon is a production building unlocked at level 50.
It is used extract duck feathers from ducks.
---
Appearance
The appearance of the salon changes as the player upgrades it:
| | | |
| --- | --- | --- |
| | | |
| With one seat | With two seats | With three seats |
| | | |
| With four seats | With five seats | With six seats |
---
Repairing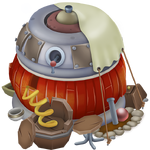 It costs 90,000coin

and takes 2 days and 9 hours (or 68 dia

) to repair the Duck Salon. It gives players 34 xp

when repaired.
Unlike other machines, the Duck Salon cannot be moved or rotated.
---
Products
---
Upgrading
Main article: Production Buildings
The Duck Salon originally has one seat available. Unlocking more slots costs coin

:
2nd seat: 51,000

coin

3rd seat: 59,000

coin

4th seat: 72,000

coin

5th seat: 90,000

coin

6th seat: 115,000

coin
Upgrades take more and more time:
2nd seat: 13 h 30 min (or 38

dia

)
3rd seat: 16 h (or 40

dia

)
4th seat: 18 h (or 42

dia

)
5th seat: 20 h 30 min (or 44

dia

)
6th seat: 22 h 30 min (or 46

dia

)
When repaired players get xp

:
2nd seat: 19

xp

3rd seat: 20

xp

4th seat: 21

xp

5th seat: 22

xp

6th seat: 23

xp
Ducks cannot be put into the salon while it is being upgraded. Ducks which were already in it cannot be taken out before the upgrade is complete.
---
Mastering
Unlike other machines, the Duck Salon cannot be mastered.
---
Strategy tips
Catching a duck takes 2 hours so you can get a maximum of 6 feathers every 5 hours (providing you steadily produce duck traps).
Animations for the ducks sitting in the salon get more varied as you upgrade the machine.
---
See also
Ad blocker interference detected!
Wikia is a free-to-use site that makes money from advertising. We have a modified experience for viewers using ad blockers

Wikia is not accessible if you've made further modifications. Remove the custom ad blocker rule(s) and the page will load as expected.