The Hay Day Frequently Asked Questions (FAQ) has been written by the Hay Day Wiki Community, not the developers of Hay Day. The official Hay Day FAQs can be found on the Supercell website.
If you can't find an answer to your question below, or need further support don't hesitate to contact Supercell.
---
Contacting Support
The quickest way to contact Supercell Support is to use the in-game support feature. Tap on the options icon in the upper left corner then go to Settings->Help and Support. To send a message to Supercell tap the message icon in the upper right corner. Make sure to include your farm's name so they can respond quickly. You can also attach pictures to better explain your issue.
If in-game contact is not possible you can always use the Support Form to report any problem.
---
Hay Day crashed!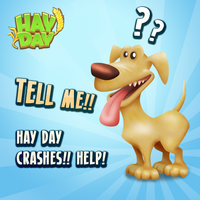 If Hay Day crashes while playing or when it will not fully load, try and perform the following steps:
1. Close all apps, including Hay Day
2. Go to your device Settings and enable "Airplane Mode" to disconnect from your data and WiFi connection
3. Restart your device.
4. Disable "Airplane Mode" from your device settings to reestablish your WiFi or data connection
5. Try and launch Hay Day without opening any other apps.
If this doesn't work make sure you have the latest version of your operating system and the latest version of the game installed on your device. Some devices also let your clear your app's cache. It is always worth a try.
If your game is still crashing or not loading, contact the support team.
---
How can I get supplies?
You can find supplies (nails, planks, axes, TNT barrels, etc.) in mystery boxes, in the Daily Dirt, in the Wheel of Fortune, in Catalogue packages, as random bonus items when you harvest your crops, pick up your products, collect animal goods and feed your pets, or by using diamonds.
Note: Tom can look for axes, saws, dynamite, TNT barrels, shovels and pickaxes, but not for building or expansion supplies.
---
I have lost diamonds! Why?
In almost every case, the diamonds are not actually lost. You might have accidentally tapped on speed-up buttons and thus used diamonds to speed up animals, crops, productions etc. Unfortunately, Supercell cannot undo speed-ups, or accidental purchases in the game but they can tell you what you used the diamonds for if you contact them.
Although some actions do not require confirmation you can enable the confirm option through the Double Tap Confirmation setting.
---
How do I get vouchers?
You can get vouchers from boat deliveries, special truck deliveries, mystery boxes, the Wheel of Fortune, derby horseshoes and catalogue packages.
---
My barn is full! How do I make room?
When you're selling items at your roadside shop, tap the barn symbol to open the Barn tab. This allows you to sell items stored in your barn and make more space.
Alternatively, you can gather building supplies and increase the size of your barn to allow more items to be stored there.
---
How can I get/give gift cards?
By reviving trees and bushes and helping other players fill their boats. They can send you a gift card for it. You can give gift cards to other Hay Day users if they revived your trees or helped you with your boat deliveries. Then a little letter will appear next to the user's icon. Tap on it, and your gift card is sent. (For revived trees you'll need to double tap on the user's icon. One to revive the tree and two for the gift card)
---
I've helped a lot of people but only received 5 gift cards. What's wrong?
You can only get 5 gift cards and 30 thank you letters a day. So don't worry, there's nothing wrong with the game.
When you receive less than 5 gift cards, the people you've helped out may not have sent you any gift cards. So it depends on the user's decision!
---
My Hay Day friends are missing, what should I do?
Sometimes, it takes a while for Hay Day to load all of your GameCenter or Facebook friends. If they don't appear, try closing all apps and restarting Hay Day, or log out of then back in the Game Center/Facebook.
---
How can I find a specific farm?
On iOS devices you can use the GameCenter to find players as long as you have their GameCenter IDs. On any type of device you can add Facebook friends. Otherwise you can create a neighborhood and invite a specific player if you know their farm name.
---
How do I help my friends' farms?
You can only help your friends if they ask for help. Your friends should have put the exclamation mark on their trees, bushes and boat deliveries. Then you'll be able to revive the trees/bushes and fill your friend's boat deliveries.
Ad blocker interference detected!
Wikia is a free-to-use site that makes money from advertising. We have a modified experience for viewers using ad blockers

Wikia is not accessible if you've made further modifications. Remove the custom ad blocker rule(s) and the page will load as expected.