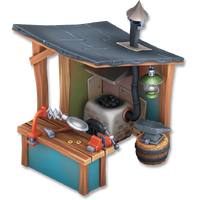 The Jeweler is a production building unlocked at level 38.
It is used to make bracelets, necklaces, diamond rings and iron bracelets.
---
Appearance
The Jeweler is a small wooden hut with blue and green sides, and a black roof. Inside the hut there is a white stove, a green lantern and a black anvil on a barrel. On the counter there is a magnifier, a hammer and a metalworking vise.
The mastered version gets a star on its now purple front and various golden parts.
---
Building
It costs 68,000 coin

and takes 1 day and 12 hours or 57 dia

to build the Jeweler. It gives players 28 xp

when completed.
---
Products
Players can make the following products in the Jeweler:
Bracelet
Necklace
Lvl 38
Lvl 39
2 h
★★★ 1 h 42 min
5

dia

3 h
★★★ 2 h 33 min
6

dia

514

coin

727

coin

50

xp

72

xp

Diamond ring
Iron bracelet
Lvl 40
Lvl 41
4 h
★★★ 3 h 24 min
6

dia

1 h 30 min
★★★ 1 h 16 min
5

dia

824

coin

658

coin

84

xp

79

xp
---
Upgrading
Main article: Production Buildings
The Jeweler originally has two slots available. Unlocking the third slot costs 6 diamonds. Players can unlock 7 new slots in total, each new one costing 3 more dia

than the previous one. Alternatively, they can spend a total of 105 dia

to completely upgrade their machine.
---
Mastering
A total of 1,470 hours of production is required to master the Jeweler:
★
70 hrs
★★
280 hrs
★★★
1,120 hrs
+10%

coin

+5%

xp

15% faster
---
Strategy tips
---
See also
Ad blocker interference detected!
Wikia is a free-to-use site that makes money from advertising. We have a modified experience for viewers using ad blockers

Wikia is not accessible if you've made further modifications. Remove the custom ad blocker rule(s) and the page will load as expected.