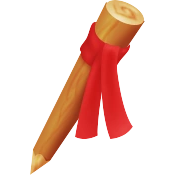 Marker stakes are supplies used to expand the farm, the fishing lake and the town.
They are unlocked at level 22.
They are stored in the barn.
---
Getting marker stakes
A sure way to get a marker stake is to buy a packet with 12 dia

.
Marker stakes can also sometimes be found in roadside shops for 1 to 403 coin

per stake.
Finally, marker stakes can be randomly obtained when players:
---
See also
Ad blocker interference detected!
Wikia is a free-to-use site that makes money from advertising. We have a modified experience for viewers using ad blockers

Wikia is not accessible if you've made further modifications. Remove the custom ad blocker rule(s) and the page will load as expected.