Neighborhoods
Comment

1
354pages on
this wiki
Neighborhoods House


The neighborhood building.
Information
Price
10,000 coins
Level
29
Repairing time
1 day

Neighborhoods (also spelled neighbourhoods) is a feature released in the February 12 update. It includes a damaged neighborhood building that can be repaired after level 29 to gain access to the feature. To repair the neighborhood building, the player needs 10,000 coins and must wait 24 hours for the repair to complete. Repairing this building will allow a player to create or search for a neighborhood. They can search for neighborhoods by name of browse the list of existing neighborhoods.
Neighborhoods can have up to 30 members.
Characteristics
Neighborhoods have a name, an emblem, a type and a minimum level members need to have to be able to join, and optionally a description. Everything but name can be changed at any time.
Type
There are three types of neighborhoods:
Anyone can join (any player can join the neighborhood immediately providing it is not full and they have at least the required level)
Request to join (players must send a request to join the neighborhood, which can then be accepted or declined)
Invite only (only invited players can join)
Emblems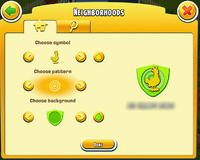 Emblems are composed of three elements -a symbol, a pattern and a background- making them look like escutcheons. Players can pick among about 20 symbols representing various elements found in the game (NPCs, animals, products,...), three patterns (whirlpool, stripes, check or no pattern), four different backgrounds (round, square, shield or ??), and six different colors (yellow, green, blue, purple, pink or red). Symbol and background can have different colors.
When a player joins a neighborhood its emblem gets added to the neighborhood building.
Positions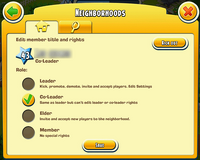 There are four different positions available within a neighborhood: leader, co-leader, elder and member. There can only be one leader but there's no limit on other positions. Leaders "own" and administer the neighborhoods: they can edit settings, promote or demote other members, invite or kick members out and accept or decline membership requests. Co-leaders have the same abilities but may not remove the leader from their position or give co-leadership rights to other members. Elders can invite other players and accept or decline requests. Members have no particular rights.
Functionalities
The chat feature can be used to talk to other neighborhood members in real time. The friends tab also shows a section showing only neighborhood members. Global events also show the top contributing neighborhoods as well.
Trivia

The neighborhood building has a mouse hole in its lower left corner. A mouse can be seen peering out from it at regular intervals. When the player repairs the house, the mouse hole gets upgraded as well: the entrance gets decorative elements around it and a little red rug in front of it.
Gallery