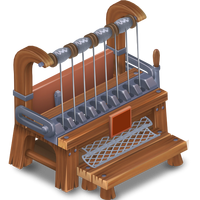 The Net Maker is a production building unlocked at level 30.
It is used to make fishing nets, mystery nets, lobster traps and duck traps.
It can be found in the Fishing Lake area.
---
Appearance
The Net Maker looks like a wooden floor loom with a bench in front of it.
The mastered version gains various golden parts, as well as a star on its front.
---
Repairing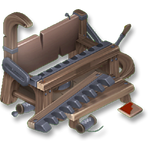 It costs 28,000 coin

and takes 2 days (or ? dia

) to repair the Net Maker. It gives players ? xp

when repaired.
Unlike other machines, the Net Maker cannot be moved or rotated.
---
Products
Fishing net
Mystery net
Lvl 30
Lvl 30
4 h
★★★ 3 h 24 min
3 h
★★★ 2 h 33 min
7

xp

7

xp

Lobster trap
Duck trap
Lvl 44
Lvl 50
2 h
★★★ 1 h 42 min
60 min
★★★ 51 min
5

xp

3

xp
Products from the Net Maker cannot be bought or sold. They are stored in the Tackle Box.
---
Upgrading
Main article: Production Buildings
The Net Maker originally has two slots available. Unlocking more slots costs diamonds:
3rd slot: 10 diamonds
4th slot: 20 diamonds
5th slot: 45 diamonds
6th slot: 90 diamonds
7th slot: 130 diamonds
8th slot: 260 diamonds
9th slot: 415 diamonds
---
Mastering
A total of 6,840 hours of production is required to master the Net Maker:
★
120 hrs
★★
840 hrs
★★★
5,880 hrs
5% faster
10% faster
15% faster
---
Strategy tips
Making as many fishing nets as you can is the easiest way to master the maker. However, this still takes a very long time if you do not unlock more slots.
---
See also
Ad blocker interference detected!
Wikia is a free-to-use site that makes money from advertising. We have a modified experience for viewers using ad blockers

Wikia is not accessible if you've made further modifications. Remove the custom ad blocker rule(s) and the page will load as expected.