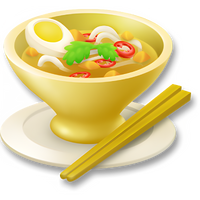 Noodle soup is a product unlocked at level 73.
It is the only product which uses rice noodles.
Like all products, it is stored in the barn.
---
Making the soup
Noodle soup is made in the Soup Kitchen.
To make the soup, players need the following ingredients, in the specified quantities:
It takes 2 hours to make one bowl of soup, and 1 hour and 42 minutes in a fully mastered kitchen. Each soup gives players 52 experience points.
---
Selling the soup
Soup can be bought or sold for a maximum price of 4,320 coins for 10 bowls.
Buying the ingredients required to make the soup costs 422 coins.
---
Strategy tips
Noodle soup is a good product to have in your shop if you need some money: it sells quickly and is easy to make. Rice noodles only take 20 to 17 minutes to do, and all the other products needed for this recipe are cheap and easy to come by.
---
See also
Ad blocker interference detected!
Wikia is a free-to-use site that makes money from advertising. We have a modified experience for viewers using ad blockers

Wikia is not accessible if you've made further modifications. Remove the custom ad blocker rule(s) and the page will load as expected.