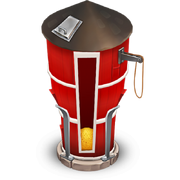 The silo is the main storage building for various crops, including berries and fruit. It is already standing at the start of the game, but is painted red during the tutorial. As with most objects, it can be moved and rotated by tapping and holding it with a finger. The initial capacity of it is 50 items.
Upgrading
The silo can be upgraded from its initial capacity of 50, just like the game's main storage building, the barn. It can be upgraded using nails, screws and wood panels which can be individually found in Mystery Boxes or among crafted items and/or crops within the game. However, players also have the choice to buy the items required for upgrades of the building for 8 diamonds per missing piece. Upgrading the silo will increase its capacity:
by 25 spaces from 50 to 1000.
by 50 spaces from 1000 to ????
Each upgrade requires additional quantities of each piece of the building resources/supplies/items mentioned above to complete, as shown in the table below.
Requirements to upgrade silo storage

| Capacity from/to | No. of nails required | No. of screws required | No. of wood panels required |
| --- | --- | --- | --- |
| | | | |
| 50-75 | 1 | 1 | 1 |
| 75-100 | 2 | 2 | 2 |
| 100-125 | 3 | 3 | 3 |
| 125-150 | 4 | 4 | 4 |
| 150-175 | 5 | 5 | 5 |
| 175-200 | 6 | 6 | 6 |
| 200-225 | 7 | 7 | 7 |
| 225-250 | 8 | 8 | 8 |
| 250-275 | 9 | 9 | 9 |
| 275-300 | 10 | 10 | 10 |
| 300-325 | 11 | 11 | 11 |
| 325-350 | 12 | 12 | 12 |
| 350-375 | 13 | 13 | 13 |
| 375-400 | 14 | 14 | 14 |
| 400-425 | 15 | 15 | 15 |
| 425-450 | 16 | 16 | 16 |
| 450-475 | 17 | 17 | 17 |
| 475-500 | 18 | 18 | 18 |
| 500-525 | 19 | 19 | 19 |
| 525-550 | 20 | 20 | 20 |
| 550-575 | 21 | 21 | 21 |
| 575-600 | 22 | 22 | 22 |
| 600-625 | 23 | 23 | 23 |
| 625-650 | 24 | 24 | 24 |
| 650-675 | 25 | 25 | 25 |
| 675-700 | 26 | 26 | 26 |
| 700-725 | 27 | 27 | 27 |
| 725-750 | 28 | 28 | 28 |
| 750-775 | 29 | 29 | 29 |
| 775-800 | 30 | 30 | 30 |
| 800-825 | 31 | 31 | 31 |
| 825-850 | 32 | 32 | 32 |
| 850-875 | 33 | 33 | 33 |
| 875-900 | 34 | 34 | 34 |
| 900-925 | 35 | 35 | 35 |
| 925-950 | 36 | 36 | 36 |
| 950-975 | 37 | 37 | 37 |
| 975-1000 | 38 | 38 | 38 |
| 1000-1050 | 39 | 39 | 39 |
| 1050-1100 | 40 | 40 | 40 |
| 1100-1150 | 41 | 41 | 41 |
| 1150-1200 | 42 | 42 | 42 |
| 1200-1250 | 43 | 43 | 43 |
| 1250-1300 | 44 | 44 | 44 |
| 1300-1350 | 45 | 45 | 45 |
| 1350-1400 | 46 | 46 | 46 |
| 1400-1450 | 47 | 47 | 47 |
| 1450-1500 | 48 | 48 | 48 |
| 1500-1550 | 49 | 49 | 49 |
| 1550-1600 | 50 | 50 | 50 |
| 1600-1650 | 51 | 51 | 51 |
| 1650-1700 | 52 | 52 | 52 |
| 1700-1750 | 53 | 53 | 53 |
| 1750-1800 | 54 | 54 | 54 |
| 1800-1850 | 55 | 55 | 55 |
| 1850-1900 | 56 | 56 | 56 |
| 1900-1950 | 57 | 57 | 57 |
| 1950-2000 | 58 | 58 | 58 |
| 2000-2050 | 59 | 59 | 59 |
| 2050-2100 | 60 | 60 | 60 |
| 2100-2150 | 61 | 61 | 61 |
| 2150-2200 | 62 | 62 | 62 |
| 2200-2250 | 63 | 63 | 63 |
| 2250-2300 | 64 | 64 | 64 |
| 2300-2350 | 65 | 65 | 65 |
| 2350-2400 | 66 | 66 | 66 |
| 2400-2450 | 67 | 67 | 67 |
| 2450-2500 | 68 | 68 | 68 |
| 2500-2550 | 69 | 69 | 69 |
| 2550-2600 | 70 | 70 | 70 |
| 2600-2650 | 71 | 71 | 71 |
| 2650-2700 | 72 | 72 | 72 |
| 2700-2750 | 73 | 73 | 73 |
| 2750-2800 | 74 | 74 | 74 |
| 2800-2850 | 75 | 75 | 75 |
| 2850-2900 | 76 | 76 | 76 |
| 2900-2950 | 77 | 77 | 77 |
| 2950-3000 | 78 | 78 | 78 |
| 3000-3050 | 79 | 79 | 79 |
| 3050-3100 | 80 | 80 | 80 |
| 3100-3150 | 81 | 81 | 81 |
| 3150-3200 | 82 | 82 | 82 |
| 3200-3250 | 83 | 83 | 83 |