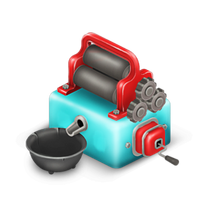 The Sugar Mill is a production building unlocked at level 7.
It is used to make brown sugar, white sugar and syrup.
---
Appearance
The Sugar Mill is a blue press, extracting the juice from the sugarcane between heavy iron rollers, with a red crank and a metal bowl.
The mastered version gets a few golden parts and a star on the front.
---
Building
It costs 350 coin

and takes 6 hours (or 25 dia

) to build the Sugar Mill. It gives players 13 xp

when completed.
---
Products
Brown sugar
White sugar
Syrup
Lvl 7
Lvl 13
Lvl 18
20 min
★★★ 17 min
2

dia

40 min
★★★ 34 min
3

dia

1 h 30 min
★★★ 1 h 16 min
5

dia

32

coin

50

coin

90

coin

4

xp

6

xp

11

xp
---
Upgrading
Main article: Production Buildings
The Sugar Mill originally has two slots available. Unlocking the third slot costs 6 diamonds. Players can unlock 7 new slots in total, each new one costing 3 more dia

than the previous one. Alternatively, they can spend a total of 105 dia

to completely upgrade their machine.
---
Mastering
A total of 525 hours of production is required to master the Sugar Mill:
★
25 hrs
★★
100 hrs
★★★
400 hrs
+10%

coin

+10%

xp

15% faster
---
Strategy tips
Sugar is widely used in the game. The Sugar Mill needs to constantly produce it.
Sugarcane, the only item required to make all products, is easy to find in the Daily Dirt.
---
Did you know?
To make raw sugar, white sugar, or syrup from sugarcane, additional steps are required in real life, such as clarification, evaporation, crystallization and centrifuging.
---
See also
Ad blocker interference detected!
Wikia is a free-to-use site that makes money from advertising. We have a modified experience for viewers using ad blockers

Wikia is not accessible if you've made further modifications. Remove the custom ad blocker rule(s) and the page will load as expected.