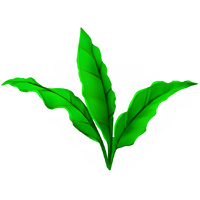 Tea leaves are field crops unlocked at level 80.
They are exclusively used to make tea: green tea, milk tea, honey tea, lemon tea, orange tea and iced tea.
Like all crops, they are stored in the silo.
---
Growing up tea leaves
Tea leaves grow in fields by planting another tea leaf (either previously harvested or purchased). Each plot yields 2 plants (net gain of 1 plant) and 9 experience points, and takes 6 hours and 30 minutes to mature.
| | | | | |
| --- | --- | --- | --- | --- |
| | | | | |
| Stage 1 | Stage 2 | Stage 3 | Ready | Harvested |
---
Selling tea leaves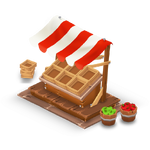 Tea leaves can be bought or sold for a maximum price of 432

coin

for 10 units.
Buying a field only costs 1

coin

but the number of fields players can have is determined by their level.
---
Using tea leaves
Tea leaves are used to make the following products:
---
Boat orders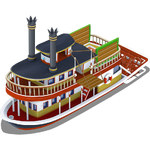 Boat orders ask for 8 to ? tea leaves per crate.
---
Strategy tips
As recipes ask for three to five tea leaves you need to keep large quantities of them in your silo, especially as they take a very long time to grow whereas tea is very quick to brew.
---
See also
Ad blocker interference detected!
Wikia is a free-to-use site that makes money from advertising. We have a modified experience for viewers using ad blockers

Wikia is not accessible if you've made further modifications. Remove the custom ad blocker rule(s) and the page will load as expected.