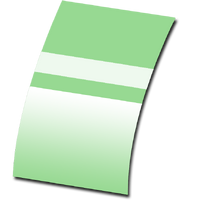 Vouchers are a type of currency used to buy pets and certain decorations, and produce some fishing lures.
They are unlocked at level 20.
---
Types of voucher
Vouchers come in four colors. From the easiest to get to the rarest:
---
Obtaining vouchers
Players can obtain vouchers by:
---
Buying vouchers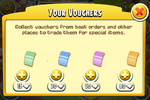 Vouchers can also be bought using diamonds:
15 for a green one
30 for a blue one
50 for a purple one
and 80 for a golden one.
---
Using vouchers
Players can use vouchers to buy pets and decorations, and to make fishing lures. Read more about each type here:
Main article: Green Voucher
Main article: Blue Voucher
Main article: Purple Voucher
Main article: Golden Voucher
---
See also
Ad blocker interference detected!
Wikia is a free-to-use site that makes money from advertising. We have a modified experience for viewers using ad blockers

Wikia is not accessible if you've made further modifications. Remove the custom ad blocker rule(s) and the page will load as expected.